All-in-One
Home Maintenance
Exterior Cleaning Solutions for
Home, Business, and Strata.
Don't stress.
Go with the flo.
Freeflo is an award winning, 5-star property maintenance company that has been servicing the lower mainland of BC since 2013.
​With more than a decade of experience, Freeflo uses top-of-the line equipment and highly trained staff to handle all of your exterior cleaning needs, from professional dryer vent cleaning, window washing, gutter cleaning, pressure washing, and more.
We provide a wide range of exterior home, strata, and business services throughout Vancouver, North Vancouver, New Westminster, Burnaby, Coquitlam, Surrey, and beyond. We specialize in preserving the safety, beauty, and longevity of your home by maintaining and cleaning your dryer vents, pressure washing, window washing, gutter cleaning, and more. Freeflo Home Services™ is your one stop shop to keep your home gorgeous and safe.
Freeflo Home Services is an award winning, 5 star, property maintenance
company that has been servicing the lower mainland since 2013.
Minimum Experience of Each Employee
Owner, Freeflo Home Services
"We recently engaged Robert and his team at FreeFlo to diagnose and replace our dryer vent booster fan. Robert was responsive, professional, and reasonable in quoting the work, and was kind enough to work around our schedules when booking service appointments. Gustavo was great to work with on the diagnosis and replacement. Everything was on budget and on time. Overall highly recommended."
"The service man worked very hard all day cleaning our windows, siding, stucco and cleaning and treating our roof. There were several problem areas that were not anticipated in the estimate. He worked extra hard, repeated treatments and did research to problem solve. We were billed our original estimate price with no extra charges.
Everything was well done."

"I needed to get a booster fan installed and contacted Freeflo Home Services. It has been a great experience from the get go. Robert was very professional, gave accurate estimates, and communicative. Gustavo, who came and did the work, was on-time, also very professional, and done a wonderful job installing the booster fan.
I highly recommend Freeflo Home Services and would definitely hire them again."
That's why we take every step necessary to make sure you can trust us with your most valuable possession.
Freeflo Guarantee
We strive to produce the highest standard of work and customer satisfaction—but nobody's perfect. Sometimes we make mistakes and that's why we have the Freeflo guarantee.

If you're not 100% satisfied with the outcome, just let us know and we will make it right, every single time.
Insurance
Your home is the most important thing you own. We ensure it stays safe and secure with a 5 million dollars in Liability Insurance. All of our employees are covered with WCB to make sure your home and the people working on it are safe.
Our Crew
All our technicians have had a minimum 4 years of experience with extensive training on all our services.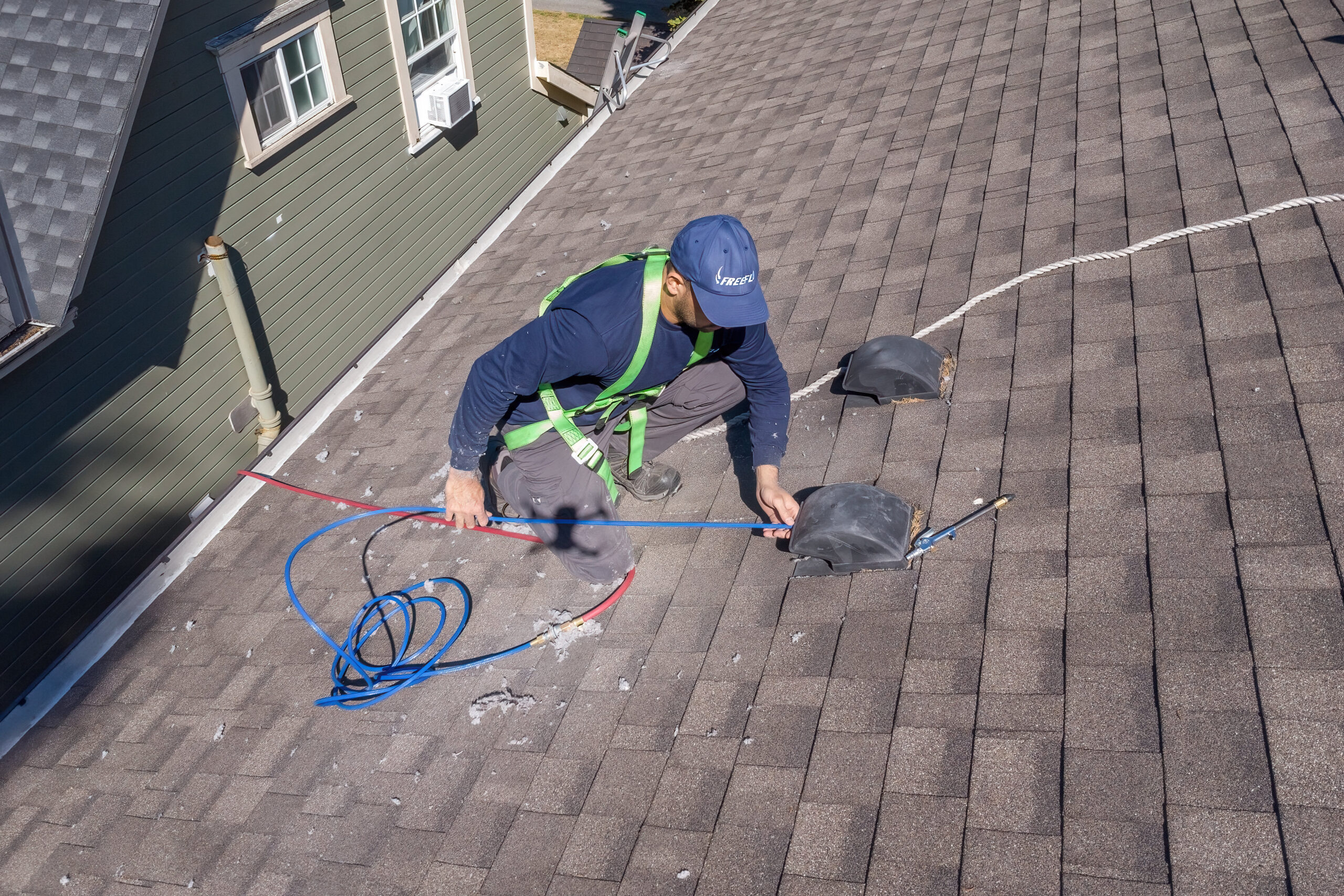 When was the last time you had your dryer vents professionally cleaned? It is extremely important to regularly maintain and clean your dryer vent in order to ensure that it is functioning properly and safely. Many homeowners may not realize the potential dangers that come with a clogged dryer vent. A buildup of lint within the vent can not only decrease the efficiency of your dryer, but it can also create a fire hazard. Therefore, it is highly recommended that you call for a professional dryer vent cleaning service on a regular basis. By doing so, you can rest assured that your dryer is running at optimal performance and that your risk for a potential house fire is minimized. Don't wait until it's too late—reach out to Freeflo Home Services today to schedule routine cleanings and ensure the safety of your home and family.
We are proud to offer an unmatched level of expertise and experience through our skilled team of technicians. Each member of our team has undergone rigorous training and has accumulated over 30 years of experience in the field of home maintenance and repair. Our technicians are equipped with the knowledge and tools necessary to provide exceptional service and ensure that your home is taken care of with the utmost care and professionalism. You can trust us to handle any issue, big or small, with the expertise and attention to detail that it deserves. Our commitment to excellence drives us to continually improve our skills and stay ahead of the latest industry advancements. When you choose our team, you can rest assured that your home is in good hands.
Accreditations and Awards
Hey there! We would love to hear from you and learn more about how we can help meet your needs. Our team of experts is eager to provide you with personalized solutions and answer any questions you may have. Contacting us is quick and hassle-free, and we're always available to lend a helping hand.
You can also feel free to email, call, or text at any time!