Richmond's Dryer Vent Services Experts
Best Dryer Vent Cleaning Agents In Richmond
We Work on a Variety of Home Services
Select a Service to Learn More
STREAK-FREE WINDOW GUARANTEE
Roof Cleaning & Moss Removal
2-YEAR MOSS-FREE GUARANTEE
Hi-Rise & Multifamily Dryer Vent Cleaning
Cleaning your booster fan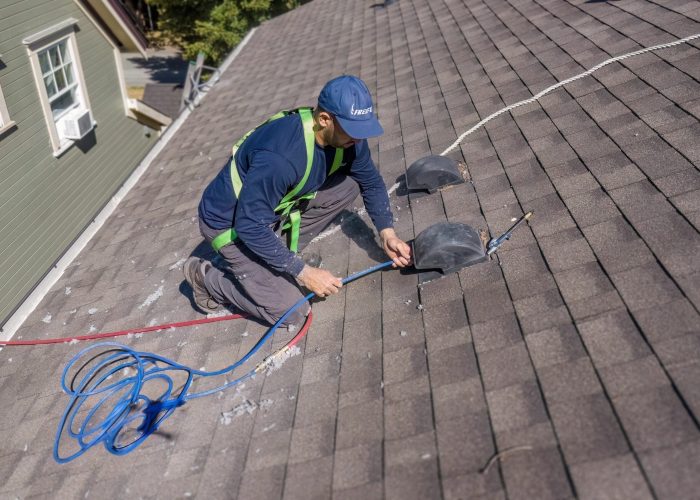 Dryer Vent Cleaning Richmond
If you have any questions about our dryer vent cleaning services, feel free to ask. We understand the importance of cleaning dryer vents in residential and commercial buildings, including high-rise units. Neglecting this maintenance task can lead to longer drying times, higher energy bills, and even pose a potential fire hazard. Our cleaning process is highly effective and safe for the environment and your property. We use a high-pressure air system and an agitation device to loosen lint, dust, and debris in the dryer vent. Additionally, we utilize a rotary brushing system and high-powered industrial suction (with a HEPA filter) to gather the lint. We will determine which method(s) will most benefit your situation.
We take extra precautions to ensure that excess lint does not spread throughout your home, business, or yard. After cleaning the vents, we will inspect the dryer's interior and remove any hidden lint. It helps the dryer to perform optimally. If you suspect your dryer requires maintenance or cleaning, don't hesitate to contact us. We will check the access of both the indoor and outdoor vent openings to ensure that nothing is blocking the system. We aim to provide a safe, efficient, clean dryer vent system.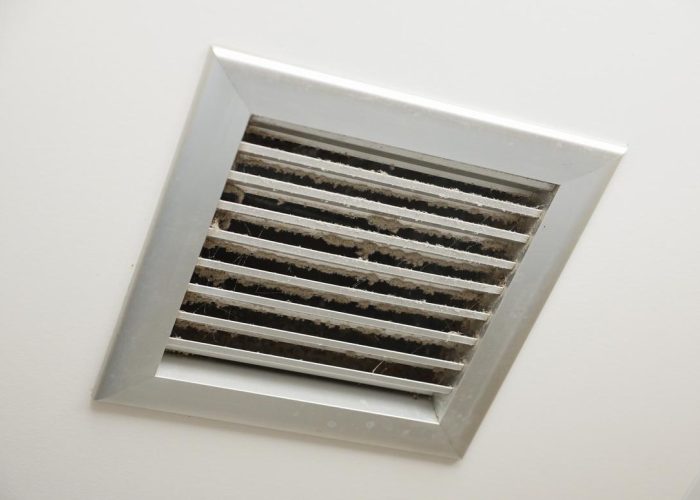 Bathroom Fan Cleaning Richmond
If you have any questions about our bathroom fan cleaning services, please don't hesitate to ask. Keeping your bathroom fan clean is essential in preventing mold and bacteria from building up inside your bathroom. In addition, a clean and smooth-flowing exhaust fan makes it harder for dirt, mildew, and mold to survive, making tedious cleaning tasks such as cleaning the tub, sink, and tiles easier and quicker.
A bathroom exhaust fan cleaning with a licensed technician can save you money in the long run. However, paying attention to this vital part of your house can lead to costly repairs and replacements. At FreeFlo Home Services, we provide thorough bathroom fan cleaning services. We will ensure your bathroom fan is cleaned correctly. Contact us for a free quote today.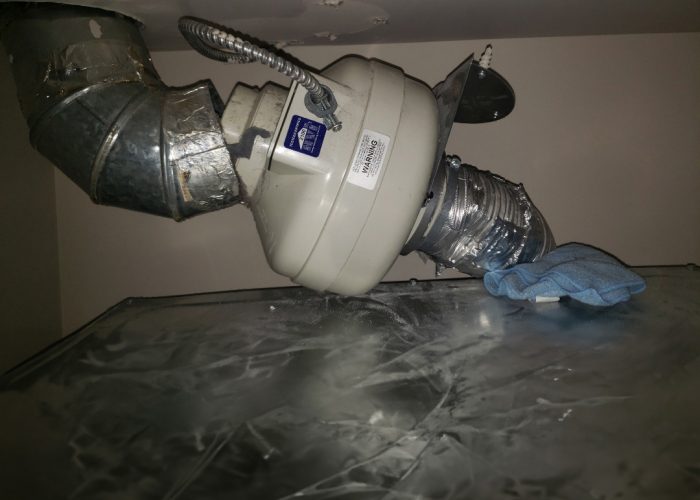 Booster Fan Service Richmond
As an expert in booster fan repairs and cleaning services, we know the importance of proper airflow in dryer ducts. Most residential laundry dryers have a maximum exhaust duct length of 25 feet; if your chimney has bends, it should be even shorter. When the duct length exceeds these limits, the dryer's blower cannot maintain a proper exhaust velocity, leading to inefficient drying and lint buildup.
It is where dryer booster fans come in handy. As a professional, we recommend the installation of dryer booster fans to help boost airflow through the dryer duct. These fans not only help to prevent lint buildup but can also improve drying times by up to 50% and increase the longevity of your dryer. They are particularly recommended for apartments and condos with concrete firewalls separating housing units. In addition, we understand the importance of maintaining and repairing booster fans to ensure they function optimally. Don't hesitate to contact us for assistance if you have any questions or concerns about your booster.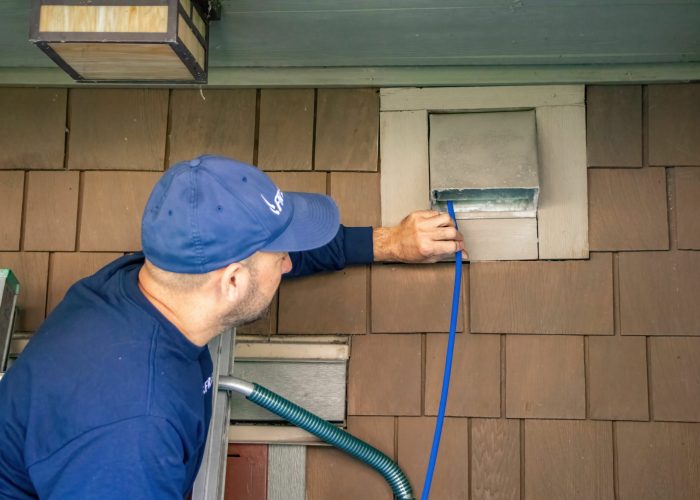 High Rise Dryer Vent Cleaning Richmond
Please let us know if you have any questions about our high-rise dryer vent cleaning services. We understand that cleaning dryer vents in high-rise buildings requires different processes than cleaning ducts in houses or 3-story apartments. However, in high-rise buildings, many residents may notice water leaking through their ceilings or patio vents, which could indicate a dryer vent issue. Our team of experts is here to help you address these concerns and answer any questions, such as why apartment vents clog and leak, how it happens, and the solution.
Our high-rise dryer vent cleaning process includes using specialized equipment and techniques to ensure that all dryer vents are properly cleaned and maintained. We use a high-pressure air system and agitation device to loosen and remove any built-up lint, dust, and debris. We also combine our powerful rotary brushing system with high-powered industrial suction, using a HEPA filter, to gather all of the lint and debris. Our process is safe, highly effective, and respectful of the environment and your building.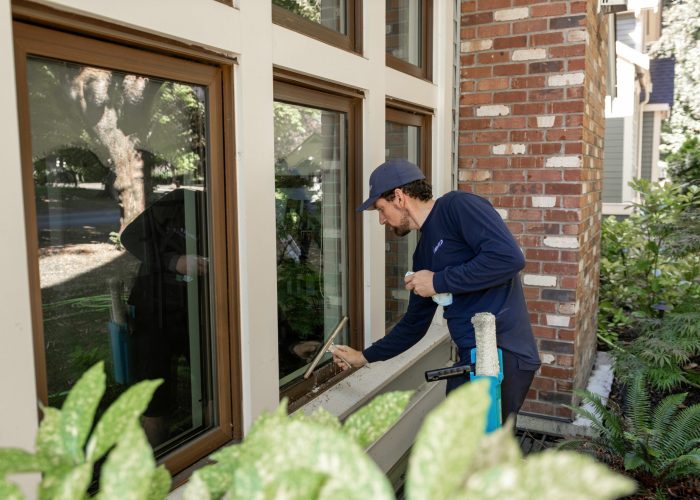 Having clean and well-maintained windows is essential to keeping your home or business looking its best. Professional window cleaning services are necessary for areas with frequent rain and dampness. Our team at Freeflo Home Services can provide the services needed to keep your windows clean and clear while improving your property's safety and functionality. Regular cleaning can also help save money on energy costs in the long run.
We understand that cleaning windows can be a time-consuming and challenging task, especially for those with busy schedules or families. It is where our expertise and experience come into play. With our professional window cleaning services, we will give your windows the attention they need and deserve. If your windows could use some cleaning, please contact us for more information about our exterior window cleaning services.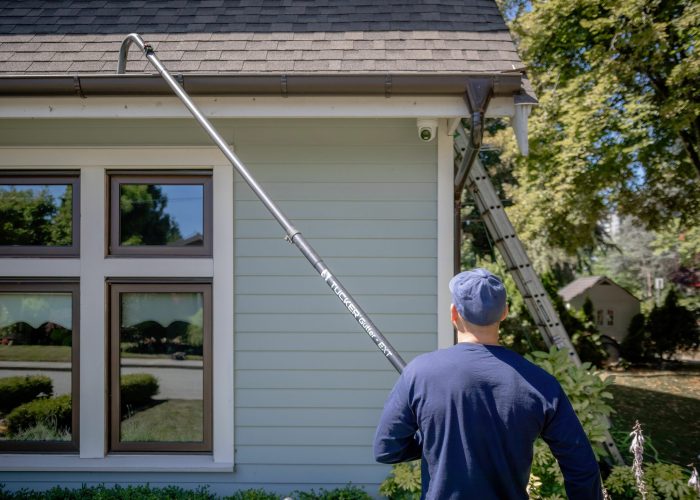 If you're struggling with dirty or blocked gutters, our professional gutter cleaning services are here to help! Our team has the tools and expertise to clean and unclog your drains, restoring their functionality and improving performance. We use various techniques, including hand washing, scrub brush washing, and power washing, depending on the type of gutter. We'll do whatever it takes to get your gutters looking and functioning like new again.
Living in Richmond and the surrounding areas, we understand the impact of the weather on your gutters. With high levels of rainfall, moss growth, and debris from fallen leaves and other sources, it's easy for drains to become clogged. Don't let this issue cause problems for your home or business. Contact us to discuss your gutter cleaning needs and learn how we can help you maintain your gutters.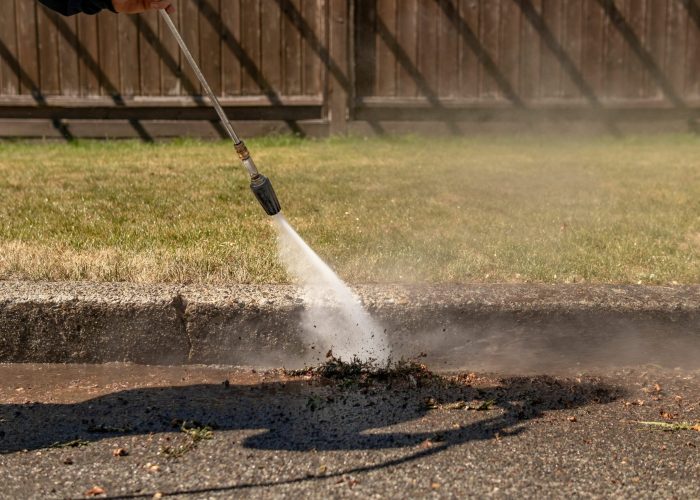 Keeping the exterior of your property clean and maintained is essential for both aesthetic and practical reasons. Dirt, grime, and mold can build up over time, making your property look dirty and uninviting. Additionally, buildup on driveways and sidewalks can create slip hazards and damage the surface.
Our power washing services can help you tackle these issues and restore the appearance and safety of your property. We use specialized equipment and techniques to effectively remove dirt, grime, and another buildup from various surfaces. It not only improves the look of your property but also extends the life of your characters by preventing damage from buildup. Whether you own a commercial or residential property, we can provide customized power washing services to meet your needs. So make sure the advertisement on your property is fine – contact us today for a personalized quote and to learn more about how we can help.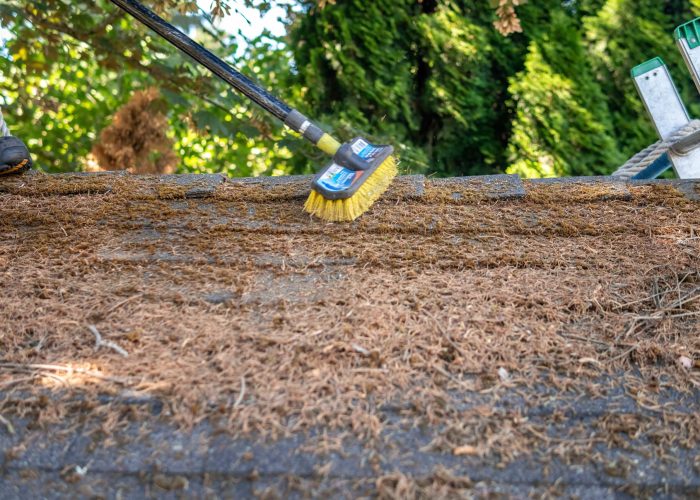 Roof Cleaning, Moss Removal and Treatment Richmond
At our company, we understand how frustrating and expensive it can be to deal with moss on your roof. That's why we offer a comprehensive moss cleaning and treatment service that's both efficient and affordable. If left untreated, moss growth can cause severe damage to your roof, leading to leaks and even a complete replacement. However, addressing the issue early on can save significant money in the long run.
In addition to our moss cleaning and treatment services, we also provide a range of other services, such as gutter cleaning, window cleaning, dryer vent cleaning, and power washing for residential and commercial properties. So, if you require any of these services or are dealing with moss on your roof, don't hesitate to contact us. We're always here to help!
Why Freeflo Home Services in Richmond?
Here are six reasons why you should hire us:
We are an award-winning company that our clients can trust.

We come with many years of experience, thorough knowledge, top-tier equipment, and the dedication to providing professional dryer vent cleaning services.
We provide a wide range of services throughout Richmond, Coquitlam, Vancouver, West Vancouver, North Vancouver, New Westminster, Surrey, Langley, and more to ensure everyone has access to quality dryer vent cleaning.
Ensure safe and efficient operation with 
5-star reviews to our "satisfaction guaranteed" policies
We have 2 million dollars in Liability Insurance and WCB Coverage.
Dryer Vent Cleaning in Richmond, BC, Canada
When is the last time you called for a professional dryer vent cleaning service? For most property owners, dryers are used every week, if not multiple times a day. Whether you are in a single-lot home or a 20-story apartment building, dryer vent cleaning is essential. For starters, it gets rid of pesky and unsafe lint buildup that is known to stick to clothes and clog dryer vents. So, not only does a clean dryer vent make your clothes look and feel better, but it also reduces the risk of having a dryer fire. Additionally, a dirty dryer vent affects your building's indoor air quality (IAQ). With regular duct cleaning, you can remove harmful bacteria, contaminants, allergens, and more, creating a healthier living space for all residents.
If the dryer vents around your property have been neglected, our team at FreeFlo are here to help. With our professional dryer vent cleaning, we can improve the efficiency, safety, and cleanliness of your home.
Freeflo Home Services specializes in dryer vent cleaning and dryer vent booster fan installations. Our professional technicians clean dryer vents in detached homes and multi-family buildings including townhouse complexes in Vancouver's Lower Mainland. A clean dryer vent means your dryer is running as efficiently as it can, and more importantly as safe as possible. Cleaning your dryer vent annually prevents overheating and even fires in your dryer venting system. If your vent is longer than 20 feet and has multiple turns, you may require a dryer vent booster fan. Installing a booster fan helps push the lint and debris out of your vents preventing blockages. To learn more about our dryer vent booster fans or to receive a free, no-obligation quote on cleaning your dryer vent, please call or fill out our online form and one of our technicians will reach out to you.
Accreditations & Recognition
Robert and his team have come and cleaned out our dryer vents several times over past few years. They are always incredibly responsive, efficient and professional and do a great job each time.
Good quality
As a businessman myself, I really appreciate courteous, efficient service. FrerFlo Home Services is Awesome...!! Came on time, reviewed the work needed to Clean and Free up the vents and Cleaned up after themselves soon as done... 5 Star Rating from me... Definitely on my Recommended List.... Blair
Great service every time!!
Sharon MacDonald
2023-07-14
The service man worked very hard all day cleaning our windows, siding, stucco and cleaning and treating our roof. There were several problem areas that were not anticipated in the estimate. He worked extra hard, repeated treatments and did research to problem solve. We were billed our original estimate price with no extra charges. Everything was well done.
Fast, thorough, professional, reasonably priced. As good as you'll find.
These folks have demonstrated a consistent commitment to first-rate, quality service to the client, politely provided in the process and ensuring customer satisfaction without compromise.I highly recommend your next call for home-related services be to Freeflo Home Services.
We recently engaged Robert and his team at FreeFlo to diagnose and replace our dryer vent booster fan. Robert was responsive, professional, and reasonable in quoting the work, and was kind enough to work around our schedules when booking service appointments.Gustavo was great to work with on the diagnosis and replacement. Everything was on budget and on time. Overall highly recommended.
They clean the roof and moss which I had for many years quickly. I would not hesitate to use them again.
Very helpful guy fixed our machine like in just 5 minutes and helps us to know more about our machine and what was wrong with it .. now we r happy to wash our cloth..thnku buddy
Get in Touch – Online Quote Request
Feel free to call or email us with your questions:
About Richmond, BC, Canada
The City of Richmond is located on Canada's Pacific Coast in the province of British Columbia. Richmond is a unique island city situated favorably within Metro Vancouver, close to downtown Vancouver and the U.S. border. It comprises a series of islands nested in the mouth of the Fraser River, with the coastal mountain range as a backdrop. The islands include Sea Island, most of Lulu Island, and 15 smaller islands.
In Richmond, the summers are short, comfortable, and partly cloudy, and the winters are long, very cold, wet, and mostly cloudy. Richmond is a beautiful place for young families to flourish too. Maymont, the Science Museum, and The Children's Museum provide outlets for kids to learn and play. Numerous food and music festivals are also held yearly, many family-friendly.
Neighborhoods in Richmond, BC, Canada
Things to do in Richmond, BC, Canada
Bus Stops in Richmond, BC, Canada
Driving Directions in Richmond, BC, Canada to Freeflo Home Services
Map of Richmond, BC, Canada